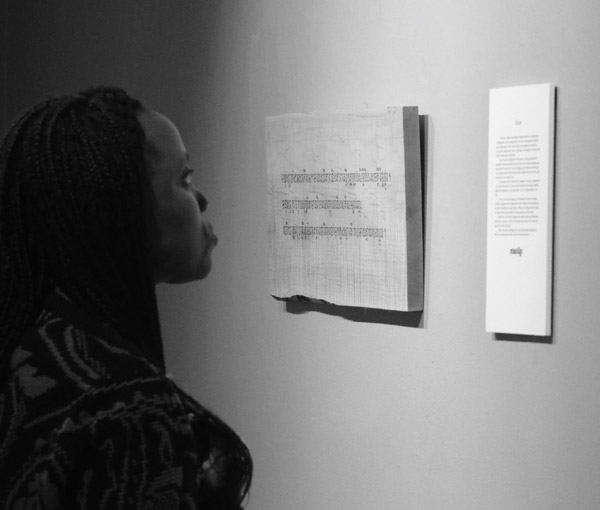 The Original Exhibition
The first exhibition of the Endangered Alphabets carvings consisted of fourteen variations, in different endangered scripts, of Article One of the Universal Declaration on Human Rights. This is still one of the most popular manifestations of the Alphabets. The boards are mounted with two D-rings on the back and can thus be hung using picture wire or can be suspended from a rail using wire or filament. They're not as heavy as they look (until you try to carry them all at once!) and weigh no more than moderate-sized paintings. Lighting should be carefully considered, as the wood has remarkable grain that deserves highlighting. Each board is roughly 18″ by 10″, though two are as long as 24″ and one is as high as 18″. For the total exhibition, with a minimum of six inches of space between them, a total amount of roughly 30 linear feet of wall space should suffice. Each board comes with both (i) a piece of foamcore, up to 8 1/2″x11″, giving a brief textual introduction to the script and how it has come to be endangered. These text pieces can easily be mounted with removable putty or double-sided tape.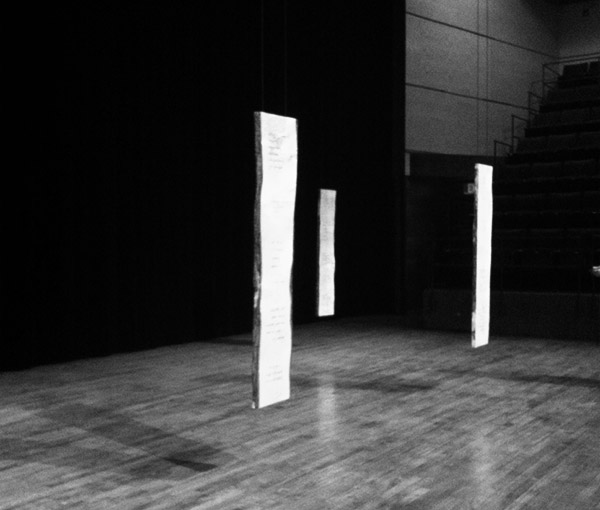 The Poem exhibition
The second manifestation of the Endangered Alphabets consisted of four vertical panels, each of which displays a short poem I composed, translated into five different scripts for a total of twenty different endangered alphabets in all. Each panel is about 5 feet tall and 12-14″ wide. The boards are mounted with two D-rings on the back and thus can and should be hung for dramatic effect, but bear in mind that each weighs nearly 20 pounds. The version in the photograph was wonderfully theatrical (literally: it was hung in a theater) but another, perhaps even more dramatic version involves hanging the four panels at the four points of the compass, facing inwards to form a hollow square that the audience can walk through or stand in. When combined with a soundtrack of people speaking endangered language mixed over a quiet track of electronic music, the result is a sacred-space effect that suspends time.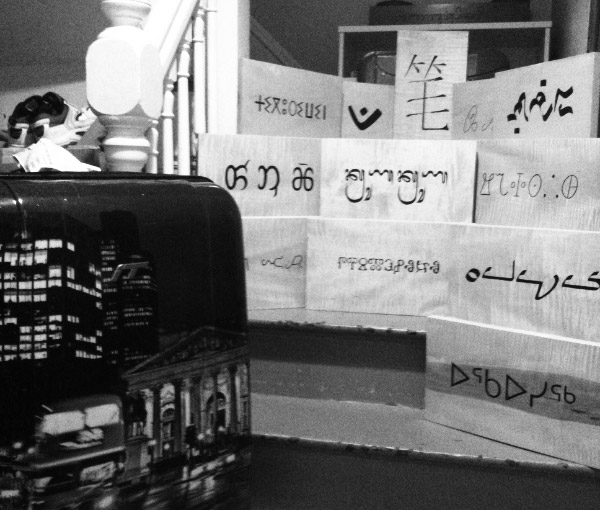 Custom displays
Since the first two exhibitions, the Alphabets have explored in a variety of new directions. At any given time I have between 18 and 30 carvings available for show, and these can be customized to suit the interests and purposes of the host venue. Recent exhibitions have explored the spiritual nature of writing, the relationship between writing and art, and one display was entirely devoted to Tibetan calligraphy. I love thinking of new ways to show and talk about the Alphabets carvings. Contact me at brookes@champlain.edu to start the discussion.
Scheduling
It's best to contact my manager, Alison Granucci of Blue Flower Arts to ask about availability and dates. Her email is alison@blueflowerarts.com, and her phone is (845) 677-8559.
Personal appearance/lecture
I love showing and talking about the Alphabets. Will Shortz, Puzzle Editor of the New York Times, invited me to speak at his annual Wonderful World of Words event and said afterwards, "Tim Brookes is a personable, engaging, fascinating speaker. He wowed the crowd."
I'm fairly available, especially as a launch event for an exhibition of the boards. I also love presenting in conjunction with faculty or researchers affiliated with the institution in conference form, and/or visiting classes, which to date have included art, anthropology, linguistics, poetry, graphic design, publishing and sculpture classes. Please contact Alison Granucci directly to discuss lecture fees and expenses.

Costs
The boards are already insured, so no extra cost is incurred there, but the exhibitor is asked to bear the cost of shipping. Shipping rates obviously vary, but one-way shipping by UPS of the original exhibition within the U.S., for example, costs roughly $150 and takes typically 5-7 days. I also strongly encourage exhibitors to order copies of the Endangered Alphabets book as an accompaniment to the exhibition. Many exhibitors are ordering multiple copies to have available during the exhibition, for which I offer a discount. I'm sorry, but I cannot afford to offer books on a sale or return basis.