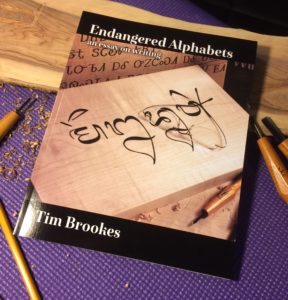 The expanded second edition of my book Endangered Alphabets is now out! But it is available ONLY on this website, and at public events where I am presenting and speaking about the Endangered Alphabets carvings–so you have come to the right place to order it!
The book (with a foreword by David Crystal, author of the Cambridge Encyclopedia of Language) is not only about my carvings and the languages they demonstrate. It's also an inquiry into the very nature of writing, and its relationship to anthropology, culture, technology, aesthetics, physics, even the bones of the human wrist.
Please order this book using the PayPal link on this page.
Alternatively, you can also order the digital edition (bad news: Mac users only, I'm afraid) using the link in this paragraph.