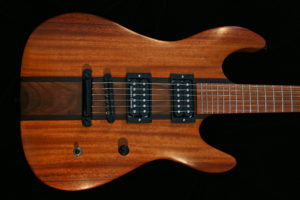 Hold on to your hats. We're launching what is surely the coolest Kickstarter reward ever: The Endangered Alphabets Guitar.
This beautiful instrument, this work of art, is a custom electric guitar, hand-made by Alec Julien. The woods are mahogany, walnut, and wenge. The pickups are Seymour Duncans, there's copper shielding in the electronics cavity, the electronics are all high-grade. Comes with a Gator hardshell case.
Whoever pledges at this reward level gets to commission me to carve a monogram in the upper half of the body. This design could be their initial(s), or a word, or a symbol, in an endangered alphabet.
I'd even stretch my usual definition of an endangered alphabet and carve in Elvish or Klingon.
Is that cool or what?
Only one is available. Act now! Rock over to HERE.
Please share this post, and feel free to gush, rave, the whole shebang.