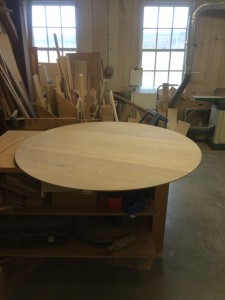 It's time for the Endangered Alphabets to get on with the most ambitious carving project yet: the Tibetan dining table. As you may recall, our plan is to auction it as we go, to offer you the chance to bid on what will be not only unique but quite astonishing item before it goes into a gallery and the price moves into the realm of the GNP of many small nations. The reserve price is $2,500. Now read on…
My partner-in-wooden-crime Tim Peters has done the first part of his job magnificently, and the round cherry tabletop, with a nicely beveled edge, is now in my living-room. Next it's my job to carve it, but first I have to plan the design I want to carve–and that's where I could use your advice.
Here's the situation. I was going to carve a repeated Tibetan phrase, probably a mantra or a blessing, around the outer rim of the tabletop. (See Fig. 1, though the band of carving would not be that broad. It's just a poorly-executed diagram, I'm afraid.)
)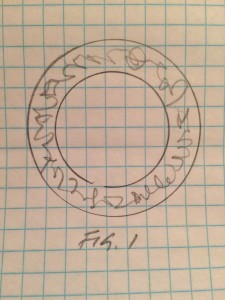 Then it struck me that as soon as the table is set with pates, silverware, and so on, the carving would be hidden! Hardly a great idea. So now I'm think of a band that starts perhaps ten inches in from the edge. (See Fig. 2, which is just as out-of-proportion, alas.)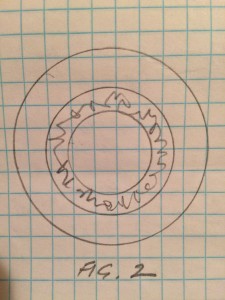 But which blessing or mantra to carve?
I'm 90 percent sure I want to use the wonderful calligraphy of Tashi Mannox, a trained Buddhist monk living on the borders of England and Wales. (His work is stunning–I highly encourage you to visit it, look through his pages, order a few pieces, and so on. Tashi and I have an agreement that if I sell a carving based on his calligraphy, 20 percent of the profits go to Rokpa International, a charity assisting sick and homeless children in the Himalayan region.) But which design to use?
My first thought was that I'd adapt the Tashi Mannox design I used for a much smaller table (Fig.3).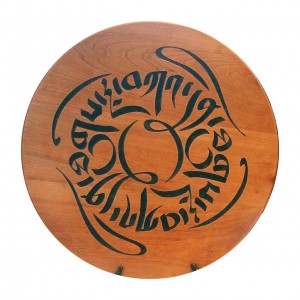 I especially like the flowing circular feel to the text, making it almost like a mandala. But I'm always looking to try something new, so I went back to Tashi's site and particularly liked this and this and this.
Normally I get my artistic advice from my amazingly talented artist daughters, Zoe and Maddy, but for once they completely disagreed with each other. So I'm inviting you, as a friend of the Endangered Alphabets, to offer your suggestions. The person who gives the most convincing argument why I should pick one of these–or a completely different Tibetan design–will win a copy of my book Endangered Alphabets.
But I need to start pencilling the design on the table SOON, so send me your ideas and suggestions by NOON on THURSDAY EST in the Comments box or at brookes@champlain.edu. And invite friends to send me their thoughts, too!
Thanks!
Tim