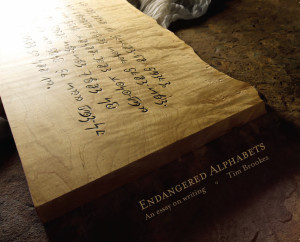 My book Endangered Alphabets exists in two editions–the beautiful print edition, first published when my first exhibition was displayed in 2010, and the expanded digital edition, with more than twice as many photographs and news of my work over the next four years, which came out in 2014. Both continue to be read all over the world.
Endangered Alphabets, with a foreword by David Crystal, author of the Cambridge Encyclopedia of Language, is not only about my carvings and the languages they demonstrate. It's also an inquiry into the very nature of writing, and its relationship to anthropology, culture, technology, aesthetics, physics, even the bones of the human wrist.
The first print edition is now SOLD OUT. I'm bringing out an expanded second edition shortly, and I'll set up a pre-order page when its arrival is imminent. In the meantime, by all means order the digital edition (bad news: mac users only, I'm afraid) using the link above.