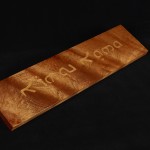 The Endangered Alphabets Project is fortunate to have attracted a stellar advisory board with a wide range of areas of relevant expertise:
Kristi Brennan
My area of expertise is development, having created and managed development departments for nonprofit agencies over the past 14 years. Capital campaigns, major gifts, event management, corporate relations, relationship building, strategies and procedures – nuts and bolts to create an ongoing income stream for the nonprofit. Currently my focus is on planned giving – incorporating a donor's philanthropic wishes to create sustainable financial futures for an organization.
Tim and I bumped into each other about a year ago. At that time I was already painfully aware how indigenous languages have vanished across the globe. Meeting Tim and learning about his work opened my eyes to the loss of alphabets and the impact that loss has on cultures worldwide. I am delighted to have been asked to be part of this group – and excited to see how this project will grow.
David Crystal
I first encountered Tim when he was preparing his Endangered Alphabets book, and he asked me to write an introduction. I called it a sculptural odyssey, and it's great to see that the journey continues. As a consequence, I am now the proud owner of one of his carvings — a Welsh proverb, Cenedl heb iaith, cenedl heb galon ('a nation without a language is a nation without a heart') — so I see it, and thus him, every time I enter my study, here in Holyhead, Wales. My background is linguistics, and I suppose the most relevant text for his project was my Language Death, which aimed to bring the research of all the amazing field linguists working with endangered languages to the attention of the general public. In it I mention the importance of the arts, including sculpture, as a way of getting the endangerment issue across, and I talk a bit about writing systems, but not about alphabets as such. I simply hadn't encountered this synergy in my reading hitherto. It would be different now, thanks to Tim. And it's ideal material for the various films people make about endangered languages. I've been involved in a few, and carvings are conspicuous by their absence — so far. They would provide an excellent counterpoint to other visuals and voiceovers.
www.davidcrystal.com
David Harrison
Linguist, anthropologist, and advocate for endangered languages. I do field work in India, Micronesia and other places where invited by communities to help them document, preserve and technologize their languages. I also teach linguistics to some wonderful students at Swarthmore College. Looking forward to working to advance Tim's visionary work!
www.livingtongues.org
Michael Horlick
I am an independent linguist and lexicographer from Hyattsville, Maryland.  I was a co-compiler of the Punjabi-English Dictionary (publication pending), principle compiler of the Uyghur-English Dictionary (2013) and co-compiler of the Comprehensive Uzbek-English Dictionary (2011).  I have also contributed to publications in Russian, Southern Uzbek and other languages of Central Asia, as well as to electronic projects dealing with Chinese and Urdu.  I'm also an avid glassblower and a papermaker.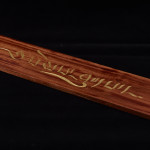 Iva Kravitz
I own a small and very focused agency in New York that does press and marketing for architects and designers. And even within that small niche I have a tighter focus on firms practicing environmentally or socially responsibly. But I've been doing this for a long time; my personal and professional networks are pretty extensive, especially in the design community.
The Alphabets project synthesizes several ideas and issues that I think are both interesting and important: art, preservation, craft, ancient practice and wisdom, teaching, cultural exchange, language, how we live, how we communicate.
www.theivaagency.com
Ted Laskaris
I am the Chief Information Officer at Champlain College. Tim asked me to be one of his board members several years ago and I didn't hesitate for a minute. Tim and I have discussed Endangered Alphabets for hours on end over the past two years. I continue to believe there are some very creative ideas that could bring the Alphabets into unique and remunerative spaces, bring sympathetic and proactive attention to the cause and support Tim in the endless work he yearns to do here.
www.linkedin.com/in/tedlaskaris
Elizabeth Magnuson
I work in cardiovascular disease research as a biostatistician/health economist. It was the compelling aesthetics of the Endangered Alphabets coupled with the illuminating wisdom of the carvings that initially drew me in. Exposure to the beauty of the endangered scripts, the organic, meditative process of creating the carvings, and the cultural preservation objectives of the overall project got me "hooked" and eager to learn more about it.
Robert Malesky
I was a producer at NPR for 30+ years. For my last 20 years there I produced Weekend Edition Sunday. One of my many duties was editing Tim's essays, which was always a bright point. Since we were a Sunday show, it had a more relaxed and thoughtful pace and we were able to cover some subjects that didn't get on the hard news-driven daily shows. My show did many features on lost and disappearing languages, so my interest in the alphabets is natural. Since my retirement I have been absorbed in writing a local history blog of my DC neighborhood, which is great fun for me and keeps my research chops fresh.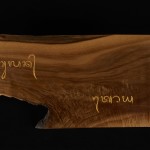 Judy Miara
I work in start-up and early stage business management with a specialty in finance. I am currently managing partner and CFO for a renewable fuel venture and contract CFO for an IPO stage manufacturer of eco-friendly consumer and industrial bio based products. I have focused on early stage businesses with positive social and/or environmental impact since I left banking in 2007. I also have extensive experience at board level and consulting for the third sector (social enterprise, financial institutions).
Many of us are focused on the goal of economic progress and inclusion. Development deals in economic reality and even when working to establish and promote truly sustainable organizations and programs, the pace is fast and change inevitable. Tim's work made me aware that along the way we are losing human tools that are not only culturally rich, but also intensely personal and intimate to communities around the world. Recognizing the alphabets and working toward their preservation is the most basic type of inclusion. And his artwork is beautiful!
Donna Parrish
I am publisher of the magazine MultiLingual. As the publication in the commercial, language industry space, we, of course, have an interest in endangered languages and alphabets. We were thrilled to learn of Tim's work years ago, and have run articles about it, and even featured his carving on a cover. I am also co-founder of LocWorld conference. Personally, I come to this industry from a decidedly left-brained background: BS in math, math teacher, systems programmer for 25 years.
www.multilingual.com
Christine Schreyer
I am a linguistic anthropologist and associate professor of anthropology at the University of British Columbia's Okanagan campus. One of the courses I teach is Endangered Languages and I first heard about Tim's work when a student of mine decided she wanted to research endangered alphabets for her final term project. We discovered Tim's book and I've been a fan ever since for the alphabets as art pieces, but also for the record the bringing of the variety of literacies there have been in the world. I had the pleasure of finally meeting Tim in person at the Foundation for Endangered Languages conference that was held in Ottawa a few years ago. In my own research, I have worked on language revitalization projects in Canada (Tlingit and Cree) and more recently in Papua New Guinea, where I helped the Kala Language Committee decide on the symbols for their new alphabet.
My colleague John Wagner and I just completed a documentary film about this work, which can be viewed online at: https://www.youtube.com/watch?v=IM1ZuIUC74c. We developed storybooks and a new dictionary with the new alphabet and returned in 2013 to lead alphabet training workshops in the 6 villages that speak Kala.
My other research interests are in constructed languages (or conlangs) and how created language communities might be models for endangered language communities in terms of language learning strategies. I am currently working on a documentary film with some amazing language creators called Conlanging: The Art of Crafting Tongues (http://conlangingfilm.com/), which also explores con-scripts (sometimes as pre-cursors to full languages) but also as a natural part of other languages. For instance, I was the co-creator of Kryptonian for the Hollywood film, Man of Steel and the script was as key part of that work.
www.christineschreyer.ca
Bob Selby
I am a professional artist /illustrator, turned art professor. In fact, I spent the last twelve years as Tim's colleague at Champlain College until last June, when I crossed Lake Champlain to start teaching at St. Lawrence University. Previous engagements in academia include the University of Massachusetts at Dartmouth and RISD. While at the latter school I conducted research in Spain on a Fulbright grant, a high point in my academic career. I am now fully engaged in my own Fine Art pursuits but I have deviated long enough to execute some commissions for the U.S. Coast Guard, the most recent of which took me to the Arctic aboard an Ice Breaker. The resulting painting was recently selected by the State Department for exhibition in the U.S. Embassy in Finland. I am currently at work on a major painting project inspired by my childhood in the segregated south that I am calling the "Doors Without Walls" project.
Alissa Stern
I'm currently organizing an immigration and migration performance space for the 2016 Smithsonian Folklife Festival.
I founded — and now advise — BASAbali, a 501(c)(3) nonprofit organization which is a collaboration of academics, NGOs, government folks and individual volunteers from within and outside Bali who are trying to strengthen the Balinese language while there is still a solid base of speakers (although there are about 1 million speakers, only about a quarter of Balinese can still speak the language).  We're trying to engage the Balinese public in getting involved at the grassroots level while also creating a more prominent national and international digital presence. Our focus is on using tools — carvings, wikis, social media, performances, etc — as vehicles for engagement in revitalization efforts.
I met Tim a few days after we launched our first Kickstarter campaign, which we didn't do well at all until Tim swooped in to rescue us.  We've collaborated on a couple of projects since, and hope to partner more with the Endangered Alphabets in its new incarnation.
www.basabali.org
Mark Turin
I am an anthropologist, linguist and radio presenter; an Associate Professor of Anthropology at the University of British Columbia and Chair of the First Nations and Endangered Languages Program. I also hold an appointment as Visiting Associate Professor at the Yale School Forestry & Environmental Studies and served as the Founding Program Director of the Yale Himalaya Initiative from 2011-2014. Together with Sienna Craig, I edit Himalaya, the longest running, open access, interdisciplinary and peer-reviewed journal of Himalayan studies.
My research interests are language conservation, documentation and endangerment; orality, archives and cultural heritage. For over twenty years, my regional focus has been the Himalayan region (particularly Nepal, northern India and Bhutan), and more recently, the Pacific Northwest.
I have really enjoyed teaching with Tim's book as it works beautifully in the classroom. When I lived in New Haven, Tim was kind enough to come and speak to my class, which led to a fascinating discussion and has resulted in a lasting appreciation for the Endangered Alphabets Project.
markturin.arts.ubc.ca
Candace Uhlmeyer
I'm a recently-retired art and design history teacher in a proprietary college in Texas. I've been interested in languages most of my life, having grown up in Japan and Taiwan as an Air Force brat and daughter of a military code guy. I studied Greek (ancient and modern) and Latin in college and grad school, but am interested in writing and alphabets both as a designer and a philosopher. My graduate degree is in history of ideas (which begin, of course, with language). I got interested in Tim's work via an article in the New York Times, then through Kickstarter, and have been a fan ever since.
Website: www.owlfarmer.com
Blog: owlfarmer.blogspot.com
Kim Wilson
I teach courses in microfinance, livelihoods and market-oriented development at the Fletcher School at Tufts University. I am also a visiting Fellow at the Feinstein International Center, a research center which focuses on ultra-vulnerable populations. I spent years in South Asia and became very familiar with tribal groups similar to those the Endangered Alphabets have worked with in Bangladesh. I am a big believer that kids need to learn in their natal languages, and losing alphabets is not just a cultural loss, but a social set-back.