As we approach the giving season, here is the opportunity to give gifts unlike anyone else's, and in the process support the global work of language revival.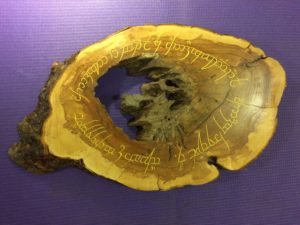 The federal non-profit Endangered Alphabets Project, which is not supported by any agency, institution, or foundation, lives by its wits, and in terms of funding that comes down to speaker fees, commissions, donations, and the sale of books and carvings. Signed copies of my book can be ordered HERE; donations can be made HERE.
But wouldn't it be ideal to buy a carving to give as a gift?
Right now I'm offering three.
The first is a piece of applewood–a ring, really–into which I've carved the inscription (in Elvish, not technically an endangered alphabet except in fiction) from the Ring of Power in The Lord of the Rings. A perfect gift for a fan of Tolkien or anyone who likes constructed languages. Dimensions: 27″x16″x2″. $300 plus shipping.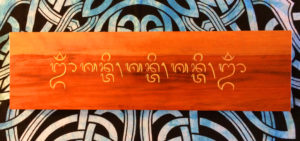 The second is a blessing/chant in Balinese, one of the world's most fluid and evocative scripts: Om and Shanti, Shanti and Om. Clumsily translated, it means "May there be peace for all human kind, peace for all living and non living beings, peace for the universe."
Dimensions: 23″ x 6 1/2″ x 1″.
The wood is pau rosa, or redheart.
$250 plus shipping.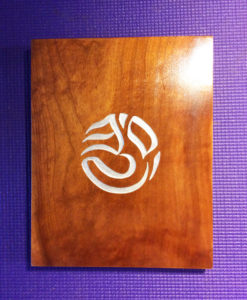 The third is based on the wonderful Tibetan calligraphy of the Buddhist monk Tashi Mannox. Tibetan is usually written horizontally, but he uses a variety of alignments including circular forms. This is the Tibetan for "Moon," which of course I have painted in silver.
Dimensions: 8″ x 9 1/2″ x 1″.
The wood is cherry.
$170 plus shipping. By arrangement with Tashi Mannox, a portion of the proceeds of this sale will go to Rokpa International, a non-profit that cares for orphaned and refugee children in the Himalayas.
If you are interested in any of these carvings, please contact me through this site or at brookes@champlain.edu.
Thanks!
Tim