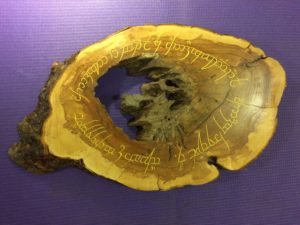 Six months ago, I saw this extraordinary piece of apple wood, this ring, and I knew I wanted to carve around its rim the inscription from the Ring of Power from the Lord of the Rings: "One ring to rule them all, one ring to find them, One ring to bring them all and in the darkness bind them."
It was fun, but it's not my main and most serious purpose. I'd like to sell it to continue to fund the Endangered Alphabets Games we're now developing to help revive a range of endangered languages. The dimensions are roughly 26″ x 16″.
I'm asking $300 plus the cost of boxing and shipping.
If you're interested, contact me via info@endangeredalphabets.com.