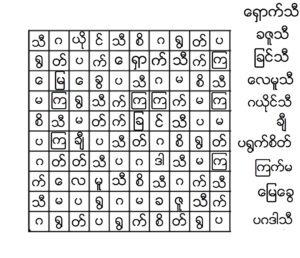 Here, thanks to a ridiculous amount of time on Photoshop (yes, I have been told it would have been easier in Illustrator, Indesign, or even Word), is what must surely be the first Word Search puzzle ever composed in Marma, one of the endangered indigenous languages of Bangladesh.
The words, mostly for animals and fruit of the region, are taken from our six-language children's picture-book dictionary, available from ourgoldenhour.org.
To be honest, I don't know if I'm using all the words and letters correctly, so I've sent it to our friend and colleague Maung Nyeu to check it out.
But once we get it right, this could be yet another valuable tool in reviving endangered languages and traditional scripts, not only in Bangladesh but worldwide.
It has already inspired a friend to create the first word search in Chakma, another of the indigenous languages of Bangladesh.
Questions? Comments? Suggestions?