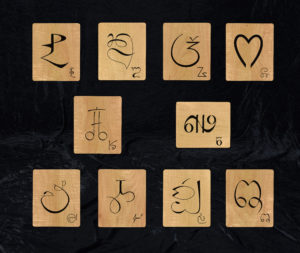 Hey, everyone–I really need your help. I've already heard from many of you what a great idea the Endangered Alphabet Games are, and my Kickstarter campaign has a solid start, but I urgently need to pick up the momentum at https://www.kickstarter.com/projects/1496420787/endangered-alphabet-games/.
Here for your viewing pleasure is the complete set of Alphabets Game tile carvings. They are the Rolls-Royce of Kickstarter rewards, and one (or more) of them could be yours.
Each is hand-carved in maple, and measures 10″ x 12″. There's not much room in the caption space to identify them all, so just let me know if you'd like me to do so, and I'll send you the complete guide to this carvings series, which explains the letter, the number, the script, and what is fascinating about each one.
If you really like one of the scripts and would like to commission me to carve a friend or family member's initial in that script, that's also doable!
And I'm also open to ideas for word games that will help revive endangered writing systems.
Please help in either way–or both!
Thanks.
Tim