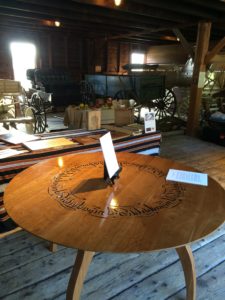 With less than a week to go in our Kickstarter campaign at (https://www.kickstarter.com/projects/1496420787/endangered-alphabet-games/), I'm offering two final new rewards.
First, the reward to end all rewards, the most beautiful thing I've ever had a hand in making: the Tibetan Blessing Table.
This circular cherry dining table, slightly under 5 feet in diameter, was made by cabinetmaker Tim Peters, and I carved into the top the phrase "Graceful kindness" in Tibetan six times in a circular band, so it repeats like a blessing, or a mantra. (The Tibetan script is based on a design by world-renowned Buddhist calligrapher Tashi Mannox.)
The table has an unusual organic quality: it is assembled without nails, screws, or glue.
The Tibetan Blessing Table is offered to a single U.S. backer at the level of $5,000. This includes shipping.
And as not everyone has $5,000 to spend, here is the other new reward, of particular interest to games players and designers: anyone who backs us at the $25 level (or above) will be automatically included in all the discussions, over the next year, that shape and design the next three generations of Endangered Alphabets games. You can choose to opt out at any time, but for as long as you choose to participate, your voice will be heard.
Zooming around the carved tabletop