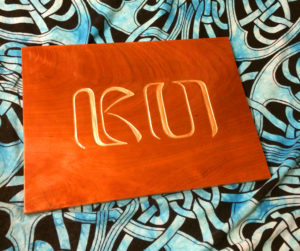 The "Java" auction is now halfway through! More than 350 people have visited the page on eBay, and bidding is up over $100–which means somebody is going to get one of my carvings, and the proceeds are going to go toward endangered language revitalization!
Here's the story for those who missed it when it went live 12 hours ago:
Some of you have already seen photos of my recent carving of the word "Java" in the endangered traditional Javanese script—hand-carved and painted in gold. In an effort to provide direct and tangible support for those working to save and revive their traditional languages (written and spoken) I am auctioning that carving through eBay.
The auction will run for a week. The proceeds from the sale will be split equally between the Endangered Alphabets and Belajar Jawa Kuna, an organization based in Indonesia that is working to preserve the many endangered traditional Indonesian scripts, especially the Old Javanese script.
I'm hoping the opportunity to buy and own this unique carving will attract interest from people interested in languages all over the world. It would even be a great wall sign for a coffee shop, a pun on the word "Java"!
Please share this with anyone you think might be interested. And the link to eBay is:
http://www.ebay.com/itm/-/172600683306?
Yes, the question mark appears to be part of the link!
Please check it out–and please share this through your social media!