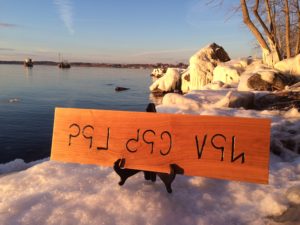 As the deadline of our current Kickstarter approaches, we're starting to gain some of the velocity we need to reach that $10,000 goal, thanks to Greta Bell, Kathy Leo-Nyquist, Josh Koehn, Paul Tacon, Tor Iver Wilhelmsen and Irina Wang. To all of you, sincere gratitude.
As one way of showing our thanks, we're offering a new reward: anyone who pledges $20 or more at https://www.kickstarter.com/projects/1496420787/100-words-for-a-childrens-endangered-language-dict/ will have his or her name included in a special acknowledgments page in the dictionary. This includes everyone who has already pledged!
And the other new reward is in the photo at the head of this update: for anyone who pledges $350 or more, I'll carve the iconic phrase "Mother tongue"–the right to speak, read and write in one's own language that is at the heart of everything the Endangered Alphabets does–in cherrywood. 
What better way to display your commitment to this children's-dictionary project and the commitment to cultural diversity it represents?