Wonderful news for friends of the Alphabets. The new expanded and thoroughly improved edition of my book Endangered Alphabets is now available, and at last we've been able to respond to your pleas for Endangered Alphabets T-shirts–though in order to do so, we need a small but significant number of orders right away. I'll explain….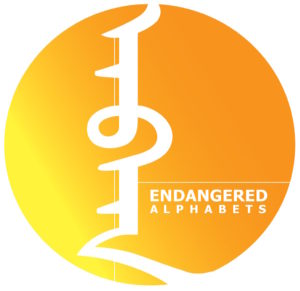 …but first, the book. For several years I've wanted to update my book to include the carvings I've been working on over the years since the original exhibition, the scripts involved, and the questions and issues they raise. Plus I've wanted an excuse to publish the notoriously challenging Endangered Alphabets Quiz. So all those are included in this handsome new edition, designed by our ace designer/typographer Alec Julien. And that edition, not available in stores, can only be ordered HERE. Please order your copy now, so I can empty the large cardboard box of books currently taking up living-room space next to my rabbit cage!
And now, the T-shirts.
Every time we run a Kickstarter campaign, people request Endangered Alphabets T-shirts, but I have not wanted to make a large initial investment that resulted in my stacking yet more large cardboard boxes next to the rabbit cage.
The great news is that both problems have been solved.
First of all, our ace designer Alec Julien and my daughter the ace graphic designer Zoë Brookes have collaborated on a gorgeous design. I'm attaching it with this post. I love it. And on a black or purple background–amazing.
Second, we have set up an account with Teespring, who AS LONG AS WE COME UP WITH 20 ORDERS BY OCTOBER 24 will handle all the ordering, shipping, fulfillment, and so on.
(It's a bit like Kickstarter, in that unless 20 orders are placed, the whole thing is null and void.)
So please hasten over to https://teespring.com/endangered-alphabets-the-t! Tell your alphabetical friends to do likewise!
As always, all income generated from books, T-shirts, and carving commissions goes directly to support the non-profit Endangered Alphabets Project.
Thanks!