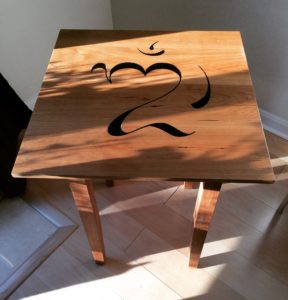 With less than two days to go in our current Kickstarter campaign, I'm offering the very last, and possibly the most unusual reward: the Balinese Om table.
Made entirely of cherry, the table has the Balinese character for Om hand-carved in the top.
Standing 26″ tall, the table would be ideal as a nightstand, as a hall/correspondence table, or as part of a more reflective and personal space.
I have carved the Balinese Om, perhaps my favorite character in the world, more than a dozen times, but this is the articulation that has pleased me most for its flow and grace.
The Balinese Om table–there is only one–is our reward for a pledge of $800. Find it at https://www.kickstarter.com/projects/1496420787/the-right-to-read-the-right-to-write/.