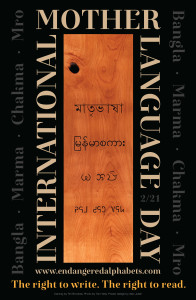 Hey, everyone.
This is an important heads-up.
As I'm sure you know, the Endangered Alphabets Project draws attention to the urgent and global issue of cultural erosion and loss by carving pieces of text—poems, sayings, spiritual texts, individual words and even letters—in traditional, minority and indigenous scripts.
Since 2009, I've done more than 100 carvings in almost all the world's endangered scripts, in addition to helping create children's books, coloring books, alphabet wall charts, rubber alphabet stamps and other classroom materials in endangered languages for indigenous children in Bangladesh.
I've also displayed and spoken about the Alphabets carvings all over North America, even at the Smithsonian Institution.
This heads-up is to let you know I'm about to launch a major Kickstarter campaign. Kickstarter campaigns are vital to the Endangered Alphabets, as we receive no funding from any institution or foundation. Year in year out, Kickstarters have been the single most significant source of funding for our work.
This particular Kickstarter, our most ambitious to date, is to raise funds for a major collection of carvings for display on International Mother Language Day—February 21st, 2017. Our aim is to raise awareness of the importance of allowing every culture the right to speak, read and write its own language. Once displayed in the U.S., these carvings will be donated to cultural organizations in their countries of origin.
I'm planning to launch in mid-June, so before that date I'll let you know the link that will take you to the Kickstarter donation page.
I hope you'll support our work. At the very least, I hope you let your friends and colleagues know what we do, and that we need every penny we can raise.
Thanks!
Tim