Several carvings have come back from a gallery and my condo is overrun with pieces of wood. I have neither the wall space nor the horizontal-display-space space for them all. So a little housecleaning is in order. Huge savings! Up to 65% off!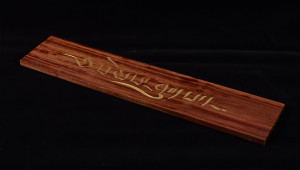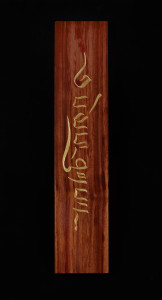 The first item, ladies and gents, is the Tibetan for "Inner strength," carved in stunning bubinga wood and painted in gold. Based on calligraphy by the monk Tashi Mannox, whose work I have recommended to you a hundred times. Dimensions: 24″ tall x 5″ wide. Originally priced at $450, now on sale for a mere $250.   SOLD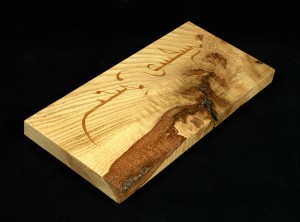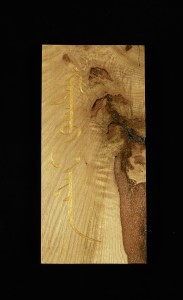 Now we come to an amazing piece of wood, a highly distressed piece of maple whose grain gave me the idea for the word I carved in classical Mongolian bichig script: Sunrise. Dimensions: 16″ tall x 8″ wide. Original price was $750, now yours for only $350.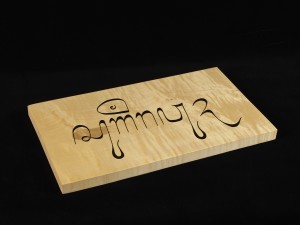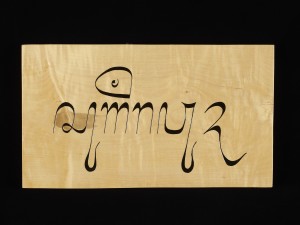 This piece reads "Welcome" in traditional Javanese script. Dimensions: 16″ wide x 10″ tall. Once $400, now a mere $200.  SOLD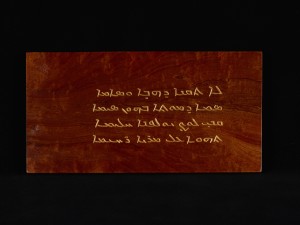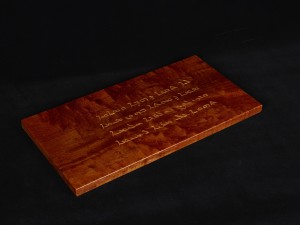 On wood like newly-stirred chocolate (which I'm fairly sure is curly mahogany) the Assyrian inscription, from a poem by St. Ephrem (306-373 A.D.), reads:
Do not acquire gold and silver
A deadly poison is in them
Rather acquire a good education
You will gain the love of God.
Dimensions: 18″ wide x 9″ tall. Original price: $900. Sale price: $350.
INQUIRIES AND ORDERS
I don't have time to throw a PayPal button together, so please email me (brookes@champlain.edu) with questions and orders.
NOTE: the above prices do NOT include packing and shipping.