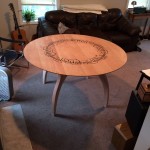 Hey, everyone. I come to you with news, but I also want some advice and suggestions about my Endangered Alphabets project (www.endangeredalphabets.com).
As some of you know, I was planning to spend my spring 2016 sabbatical Down Under, showing the carvings, giving talks on them and the issue of cultural endangerment, and searching Indonesia for people who can still read and write some of the imperiled writing systems I have not yet carved. Plus a visit to Bangladesh to meet my collaborators in the Chittagong Hill Tracts project.
Well. Turns out that the various colleges, libraries and other institutions in Australia that were planning to host me are not allowed to pay their speakers. Also turns out that Isis chapters in Bangladesh and Indonesia have been dismayingly active, and in Bangladesh in particular several foreigners have been hacked to death with machetes. So the trip is not going to happen, at least for now.
This is where you come in. I'm always up for new ideas and challenges, and I'm not vain enough to believe I have all the answers. So I'd like advice on these two issues.
What shall I do with my sabbatical? Obviously I plan to keep carving and giving talks, but does anyone have any specific suggestions about direction, venue, project?
What shall I do with the incredible Tibetan blessing table made by Tim Peters and myself? It needs a good home, and my place is too small (and I already have my Balinese blessing table. Some lucky friend/relative's Christmas present?
Thanks for any and all suggestions!
Tim