Dear Friend of the Endangered Alphabets: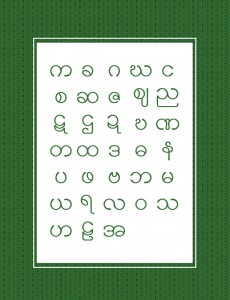 I hope you recently received my message with the great news that the Endangered Alphabets Project is now officially a 501c3 non-profit. In other words, donations to the Alphabets are now tax-deductible.
I'd like to tell you about the worthwhile and ambitious projects the Alphabets will be taking on in 2016.
Over the past three years, many of you have supported our work in the Chittagong Hill Tracts in Bangladesh. As you may recall, this is a region where standard education is in the national language of Bangla, which most indigenous children don't speak or understand. As a result, fewer than 5% of children survive their education as far as 10th grade. Girls' education is especially likely to suffer.
At the time of my first Kickstarter appeal we were hoping to make carvings and publish a coloring book for one new K-8 school where some 80 indigenous children could be educated in their mother tongues.
As I write this email, more than 600 children at three schools are using not only the coloring books but alphabet stamps, writing journals, and storybooks (based on tales from the Hill Tracts) through 10th grade. Every classroom door has a carving that shows its grade in the numerals of the region. For more about the project, click HERE.
In 2016 we hope to expand our efforts still farther and create a pictorial children's dictionary in the indigenous languages of Mro, Marma, Chakma and Tripura. This is a massive undertaking, the first of its kind, and it will be a huge step forward in giving these children a sense of their cultural identity and value, and helping them receive an education that may make the difference between poverty for them and future generations, or stability and self-respect.
I hope you'll support our work by going to http://timbrookesinc.com/endangeredalphabets/donate/.
Tim
P.S. This just in: after five years of searching, I've finally managed to contact someone who is working to recover and revive the Bamum language of Cameroon. This tragic-but-inspiring story is so much at the heart of my work that I dedicated my book Endangered Alphabets to King Ibrahim Njoya of Bamum, who called on his people to help him create their alphabet. For the full story, click HERE.