I'm trying something that may be entirely new. Working with the woodworker Tim Peters, I'm going to make a unique dining table, circular, about five feet across, carved with an exquisite Tibetan blessing based on the work of the Buddhist calligrapher Tashi Mannox.
I'm going to auction it while we're making it. Over the next few months Tim and I are going to post regular updates so you can watch the project develop—photos, video, blog posts, sketches, computer design drawings. We'll be asking you for your opinions, suggestions, and feedback.
Bidding will start as soon as the first post goes up, and it will begin at $250, the cost of the materials. The first five bidders will receive special thank-you incentives. Tim and I are still deciding what they'll be, and we'll let you know once things get under way. Twenty percent of the profits will go to Rokpa International, a non-profit that supports sick and homeless children in the Himalayas.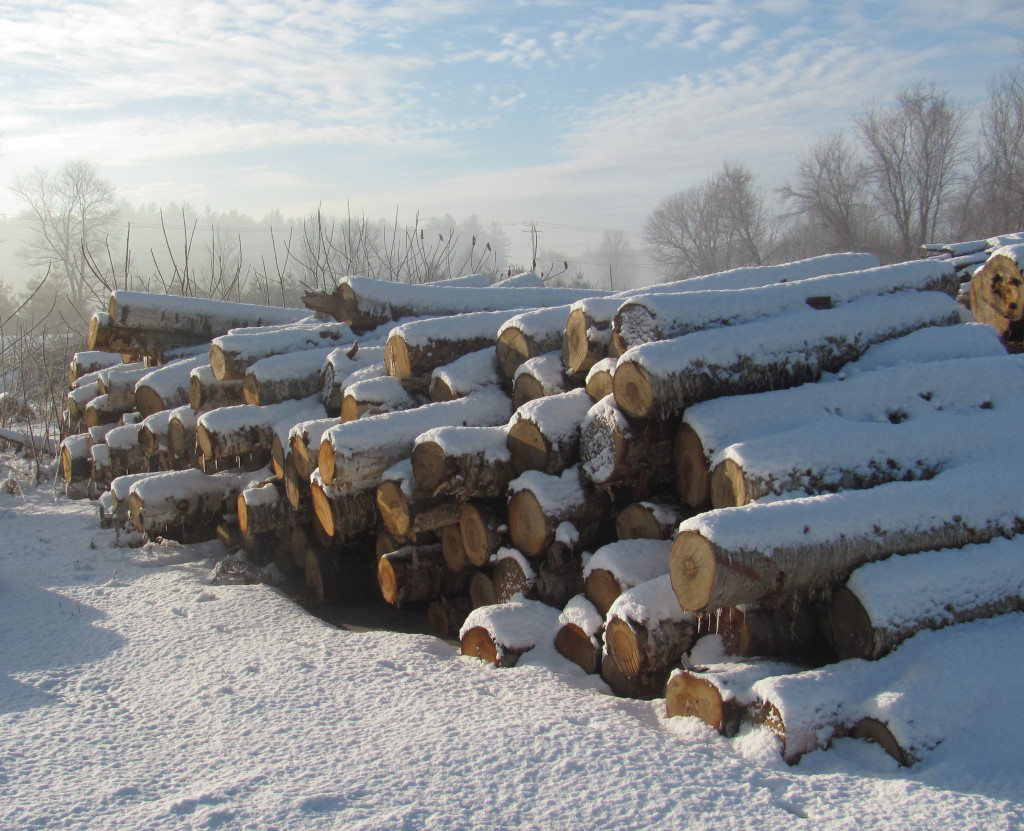 The project begins, of course, with wood.
Tim Peters and I (the name of our association is still in flux: we're trying out Tim Squared, TimTim, TPTB, and Right Said Fred as possibilities, but we're open to other suggestions) drove in his truck down Route 116 to Bristol, Vermont, heading south along the glaciated valley floors, ridges rising on both sides.
It was a spectacular morning, frigid, brilliant, a couple of feet of untouched snow everywhere, all the rivers frozen, a thick trough of ice at the foot of every field, rime on every tree making it glisten silver.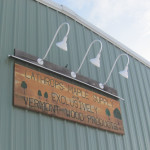 We were making for the tiny hip/trad town of Bristol, home of the Fourth of July Outhouse Race, home too of Lathrop's Maple Supply, source of much of the best lumber in Vermont. We were looking to buy cherry for our Tibetan dining table.
When we reached what elsewhere might be called the Lathrop Industrial Park, in the river flats below the town, the Lathrop's mill building was sending a steady column of white smoke-and-water-vapor mounting and expanding, untroubled by any breeze, as if to illustrate how cold the air was, how this was a working Vermonter's environment down here, not a ski village or a fern-bar-and-cappucino town.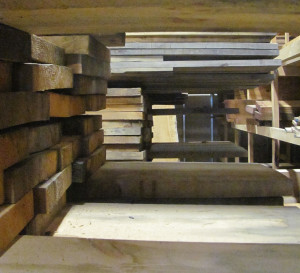 Tim parked on what woodworkers would call eight-quarters ice, the truck barely making it up to the loading door. Inside, we pulled on our gloves. Bristol was a good fifteen degrees colder than Burlington, and it was probably five degrees colder in the metal-sided woodshed than outside.
Around us stood racks of lumber—not only cherry (Pennsylvania, Vermont) but butternut, red oak, hard maple, soft maple, ash, birch, basswood, and spalted sycamore, the spalting fungus running through the grain like a network of tiny gray streams.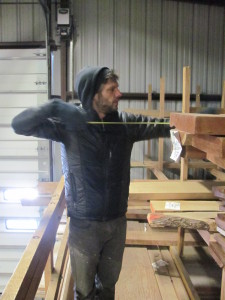 At the front of the shed, a couple of dozen tall select pieces had been set up, including a spectacular pieces of curly birch with a gorgeous pattern of the lighter sapwood around the darker hardwood and figured lights running across the grain like an aurora. An indecipherable scribble ran up its face; someone had already pounced on it and would be coming back to pick it up, possibly when the temperature rises above freezing. April, in other words.
Tim set off among the racks, peering at the hand-lettered signs, pulling out his tape measure. He was now officially at work, checking out the color, the straightness of the grain, the density, and a dozen other factors the eluded my only-semi-trained eye.
Choosing wood is hard work. It's not just a matter of pulling out boards that may be an inch or two thick, six to twelve inches wide, and up to a dozen feet long, or even shuffling such boards around to get at a more promising specimen underneath the stack.
Lathrop's is no suburban lumber store, laid out for the weekend shopper: merely getting to the steps leading to the upper level required squeezing between the ends of ten- or twelve-foot boards. Getting along the upper walkway, where the ends of the boards stuck out so far they nearly met the walkway handrail, was an Olympic duck-and-scramble event.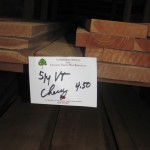 After perhaps forty frigid minutes, during which time I tried to send a text but it refused to leave the comfort of my phone, Tim had half a dozen pieces he liked.
How much cherry did we actually need? How big is the table going to be? Well, I've been thinking maybe five feet across, though that'll be a pretty huge table, not only in terms of the dining-room that will need to accommodate it, but in terms of the working space it'll demand. I have no workshop apart from my garage, and I don't set foot in it in these temperatures. My working space is my own dining-living room where I'll be carving this tabletop on my existing Balinese table, turning it bit by bit as I carve, standing it up on end when I need to use my house for some other social purpose than a carvery.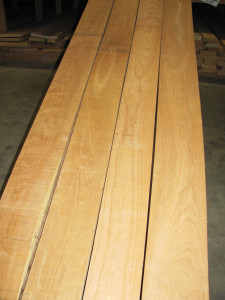 Tim ended up picking four twelve-foot boards, their grain strong with just a little fluttery figure here and there, their color gingery. Each was between six and eight inches across; milling, gluing and shaping them into a circle will be the first steps of his part of the job.
We sent up a smoke signal and the owner, Tom Lathrop, appeared, looking like a stocky, bearded, backwoods pirate in heavy overalls. He chuckled about the cold, saying in his Vermont accent that on days like this he can pull out his peanut butter sandwich knowing he won't get any flies on it.
Tom's sawyer cut our boards in half so they'd fit into the bed of Tim's truck. They had undertaken the next leg of their journey from tree to furniture, but they brought with them, in their deceptive uniformity, that river of grain that is the visual signature of all the slow internal dynamics of wood, its internal elasticity, its energy.
The tree might be down, but the wood is anything but dead.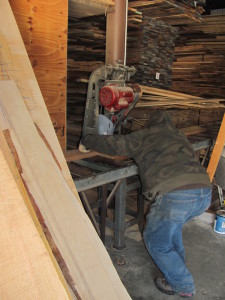 Please repost this as widely as possible. Spread the word!