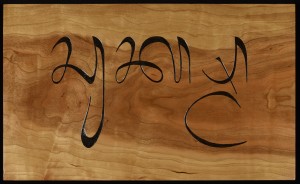 As many of you know, I'm strongly supporting Alissa Stern's Kickstarter campaign, which she explains below.
I've added some new rewards, including carvings of the word suskma, or "Thanks," in Balinese, and a pack of greetings cards with the same message.
Please give her the support she deserves, and also repost this if you can.
Thanks!
Tim
Hi all:
We just launched a new free multimedia Balinese-English-Indonesian dictionary. We're especially excited about as a tool to regenerate this minority language (only 1/4 native Balinese can still speak the language and the script is already endangered). The Economist did a nice piece on it several years ago which gives a flavor for its complexity and beauty:http://www.economist.com/blogs/johnson/2011/11/balinese.
The wiki is at http://dictionary.basabali.org. We pre-populated it with 10,000 entries (balinese words translated into English) from a Balinese-English dictionary that was donated to us. A team of Balinese linguists will edit the wiki as the public adds to it.
We need your help to put the wiki on solid ground (we had to move it to a more expensive server because so many people were accessing it at the same time), to support the Balinese linguists working with us, and to send people out to the field to capture regional differences.
We've been working on a volunteer basis but really need a little monetary support to see this through. Please consider donating even a small amount. The kickstarter is athttps://www.kickstarter.com/projects/1762259619/gongs-batik-and-sate-wiki-tools-for-balinese.
Thank you so much for your help.