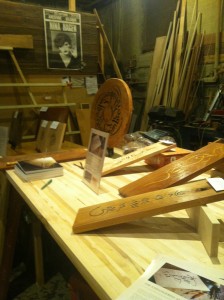 September is always the busiest month for the Alphabets, and the rush began this past weekend with the first of three major public appearances: in the Sterling Hardwoods wood shop on Pine Street as part of the South End Art Hop in Burlington, Vermont. (For the other two events, see the end of this article.)
A total of 16 carvings were on display: three carvings based on Tibetan calligraphy by Urgyen Gyalpo; a round tabletop based on a circular design by Tashi Mannox, plus another six flat pieces based on the same calligrapher's work; the two Man and Woman Chinese-script bedside tables plus a new Family coffee table; another Chinese-script vertical plaque reading "House of Art and Wood" (a present for the Sterling co-owner, Dave Wilson); a small "Thank you" in Balinese; and the gigantic, statuesque Mongolian "In the beginning was the Word."
For those who are new to this site, I was set up in Sterling Hardwoods because the guys there have adopted me despite my patent ignorance of general woodworking skills. They sell or give me interesting pieces of wood with elaborate or knotty grain, and they square off the edges and ends of my carvings, given that I have no power tools of my own and cannot saw in a straight line. So about three-quarters of the shop space was given over to beautiful tables, stools, chairs, and just beautiful stacks of wood, and a quarter was a couple of butcher-block tables-in-progress on which stood or lay the Alphabets.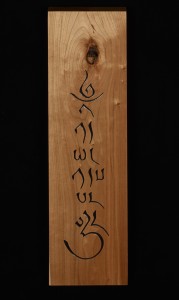 This particular selection of carvings, with its Tibetan theme, had all been made in the past three months, for a particular purpose. In decreeing recently that children in Tibetan schools should learn the Chinese alphabet, the authorities were ensuring that a particularly painful alphabet endangerment will take place: within a generation, two at the most, Tibetans will no longer be able to read the sacred and secular texts that collectively spell out the Tibetan identity. Walking into a temple they will recognize the writing but have no idea what it means.
Friday evening was a street party. Literally thousands of people milled up, down, and across Pine Street, taking in the sights/sites, listening to live music on almost every corner, eating food from the trucks, looping in and out of Sterling Hardwoods. My ace new intern, Paige Merrow (a Champlain College Professional Writing senior) has within her first week grasped all the essentials of the Alphabets and was able to field a barrage of interest and questions. The high point was probably the five-minute period in which one visitor revealed she speaks Javanese (and wrote her name in aksara Jawa in my visitor's book) and almost the next person casually revealed he knows Mongolian. It's a rare, rare day when someone with such direct connections to an endangered writing system breezes in off the street.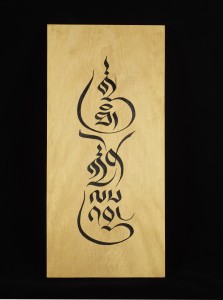 Saturday was less frantic but no less interesting, especially in the afternoon when visitors were trapped in Sterling by brief, torrential downpours. I was delighted to meet a couple from Skidmore College, with whom I hope to collaborate on a series of carvings and perhaps a campus visit.
Sunday was steady but leisurely. I wound up the carving, painting and sanding on a final Tibetan piece in flame mahogany, bound to look incredible when finished, and chatted with another few dozen interested and supportive folks. By the end of the weekend I had sold a few copies of the book, received a handful of commissions, sold a couple of carvings, and thus a cheque will be heading to Rokpa International, a humanitarian non-profit that cares for children in the Himalayas.
Next up: a live carving event in the Burlington Square Mall (now officially called the Burlington Town Center) on Saturday, September 20, focussing on Cherokee. This event is part of the Burlington Book Festival. Then the following weekend, a two-day demonstration event in Woodstock, Vermont, at the Vermont Fine Furniture and Woodworking Festival. Please, please drop by and say hello if you're in the area.