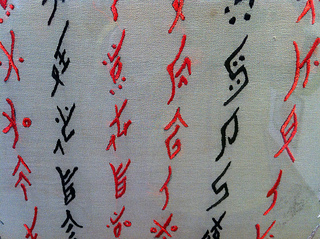 Here in the Endangered Alphabet business, the hardest work is always tracking down people who can still read and write vanished writing systems. You don't expect that one of the rarest of all will come to visit you–well, come to upstate New York, three hours away from the Alphas HQ in Vermont. So I was stunned to discover that on August 15th the Saratoga Performing Arts Center (SPAC) will be hosting the Philadelphia Orchestra as the musicians perform Nu Shu: The Secret Songs of Women, a musical offering created by Tan Dun, who wrote the score for Crouching Tiger, Hidden Dragon.
To quote from the SPAC press release: "At the heart of Nu Shu is an ancient language—thousands of years old—secretly created by women who were forbidden to learn the men's language and perpetuated through the generations by reading, writing, and singing. `This language was passed on … always from a mother to daughter and always by singing,' says Tan Dun. `This is the only women's language in the world and only a few people—very, very old women—know the secret language. And I immediately got fascinated by it.'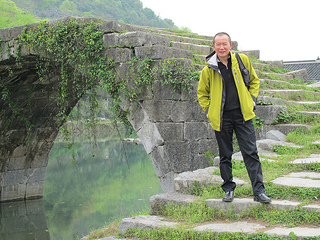 "Tan Dun traveled to a remote village in his native Hunan province and made over 200 hours of video and audio recordings of the last remaining women who still speak the language. Those recordings are incorporated into his piece and woven together with the orchestra and the harp, which the composer says he chose because it is `the most feminine instrument….I want harp to serve a very, very dramatic sound source to link this ancient tradition of the women's language—singing, and reading, and writing—to the future sounds of The Philadelphia Orchestra and modern orchestra."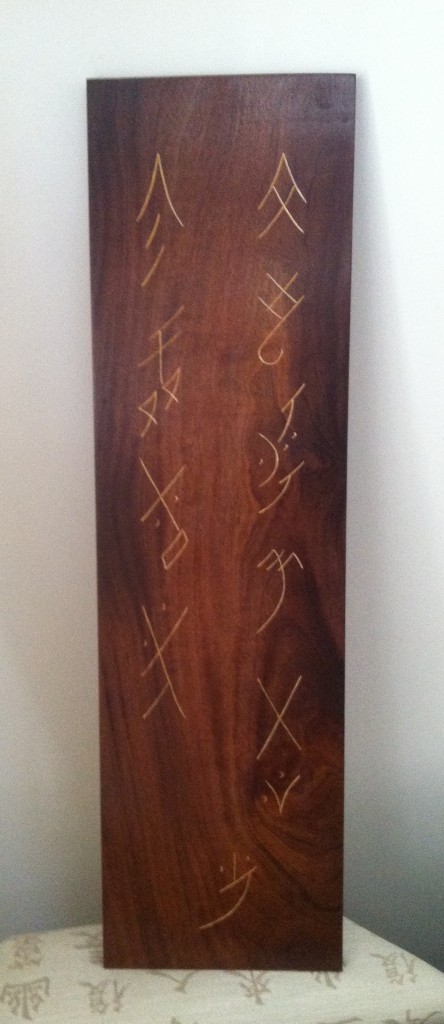 My own point of contact with Nu Shu was through the linguist and scholar Debbie Anderson of Berkeley, who was kind enough ascertain a Nu Shu proverb for me when she visited Dr Zhao Liming, the world's leading expert on the language, in China.
I carved the proverb for friends to display in their retirement home: it reads "Beside a well, one does not suffer thirst; beside a sister, one does not suffer despair."
I'd love to acquire more Nu Shu texts to carve, and I'm delighted to hear that the sinologist and Nu Shu scholar Cathy Silber has been hired by Skidmore College to introduce Nu Shu and other Chinese language materials into the college's curriculum. She can expect me to be knocking on her door any day now.
Tim
P.S. If you're interested in ordering tickets for the SPAC performance (and who would not be?), click HERE.