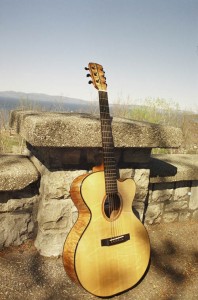 It only occurs to me at this shamefully late date that I should credit much of the initial impetus behind the Endangered Alphabets to Rick Davis.
Rick, who is the proprietor of Running Dog Guitars, made the guitar that was the subject of my book Guitar: An American Life, and in doing so he introduced me to wood and woodworking at the highest level.
He let me look over his shoulder as he worked on every stage of the process, which must have been a vertigo-inducing experience, and more amazingly he let me write about it and quote him.
He told me about all kinds of woods, with their strengths and weaknesses, and stories about things that had gone terribly wrong, as well as things that had gone well. You need that kind of breadth of story if you're going to undertake a new enterprise such as woodworking, and without either of us realizing it he was preparing me for my own adventures with wood.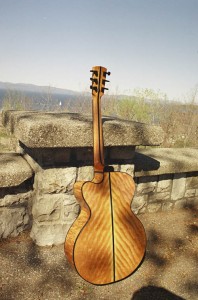 I'll never be a thousandth of the craftsman he is, but through him I was enthralled with the love of beautiful wood, and what might be done with it.
With that in mind, I'm posting photos of the guitar he made me.
That amazing material from which the back and sides are made is actually cherry–an almost unique cherry with a deep, stunning ripple. The guitar, now 12 years old, still looks and sounds wonderful, and in fact I'm playing a gig with it this weekend.
So, a tip of the sawdust-and-shavings-covered hat. Thanks, Rick.
Tim