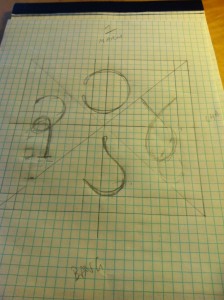 The next Endangered Alphabets activity is for me to carve classroom door numbers for the schools in Bangladesh we are supporting, where indigenous children can learn in their own languages.
This may sound like a strange, minor exercise, tangential to the main purpose, but it's not.
Signage is very important in this instance. After all, these children and their families are being told that they are not Bangladeshis unless they speak Bangla, and that their own languages and culture are unimportant, even a hindrance to being Bangladeshi citizens.
My goal is to carve signs to go on each classroom door, from grades 1-8, with the numerals in the Chakma, Marma, Mro and Bangla scripts. This signage gives status to the minorities, without excluding the national language and script.
In my mind it's a small but important step in changing cultural perceptions–but it's certainly not an expensive one. Materials, millwork, and shipping will almost certainly add up to no more than $100. So this is a small appeal. If you can afford a few bucks to support this effort, please go to the Donation page and give what you can.
Photos of the work in progress will follow.
Thanks, and best wishes!
Tim