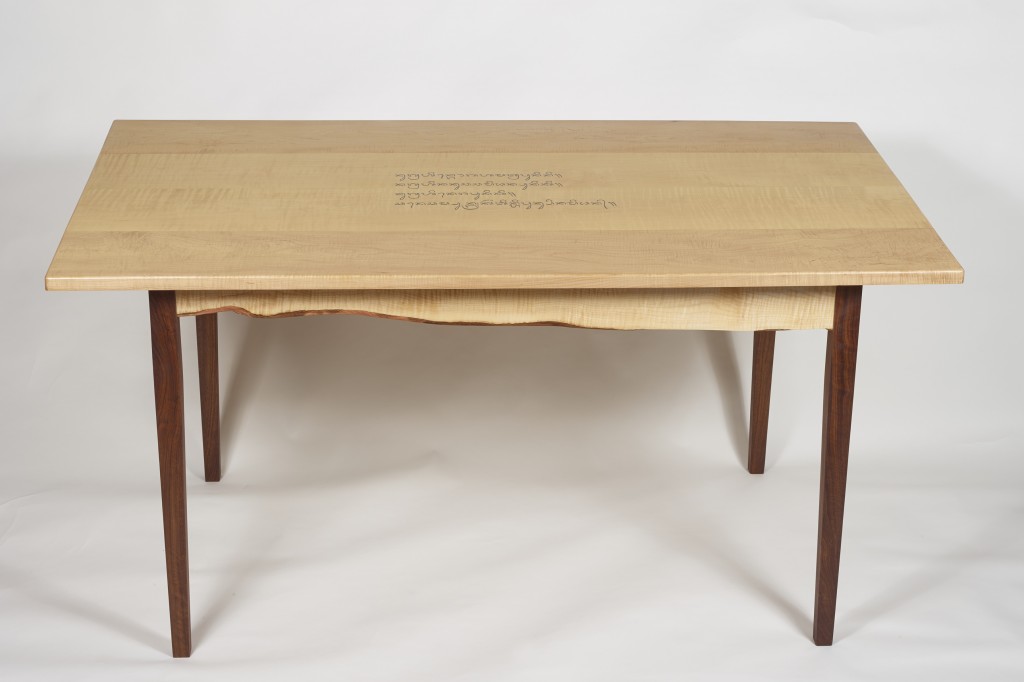 Yes, thanks to the wonderful photography of Tom Way, who even helped me carry the table up the impossibly steep and rickety staircase to his studio, you can finally see the dining table I started more than a year ago.
Here's the story. When I moved into my rather anonymous little townhouse, I promised myself I'd populate it with good wood. And almost the first thing I did was to buy four planks of wonderful curly Vermont maple from Ernest Krusch up in Cambridge (Vermont, that is, not Massachusetts or England). Dave Wilson at Sterling Hardwoods milled and glued them, creating the tabletop, and I composed a short blessing, to wit:
Bless this food
Bless these people
Bless this table
That brought them together.
Thanks to the good offices of Alyssa Stern of Basabali, this text was sent to a priest in Bali, one of the last people on the island who can still write in the beautifully rhythmic and avian traditional Balinese script.
It took nine months for the text to make its way back. It took another month or six weeks to carve and paint the blessing into the tabletop. Finally, Nate Moreau made the legs and skirt in the maple-and-walnut combination that is becoming the trademark of the Endangered Alphabets furniture. It was entirely his idea to use a live edge–that is, the wiggly edge with the bark–on the skirt, and it looks perfect.
It's true, we're hoping people may order tables like this, perhaps with their own choice of text, to support the Alphabets Project. For now, though, I still can't get over how well it came out.