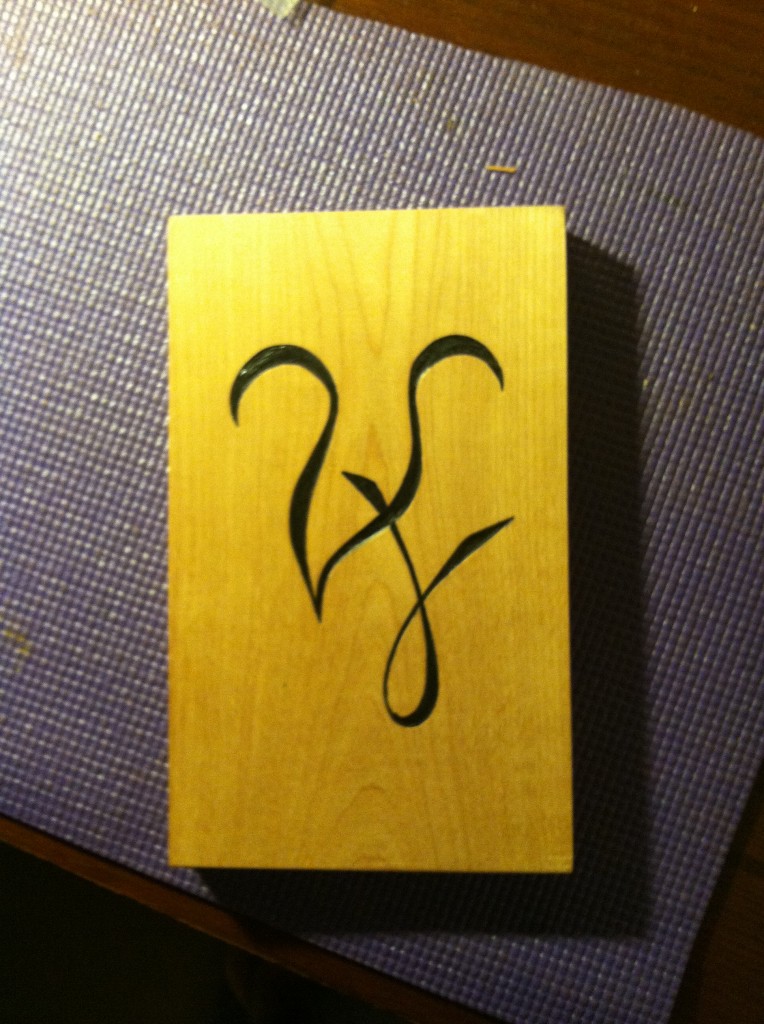 We're smack in the middle of one of the busiest times in the relatively short life of the Endangered Alphabets.
I suppose I should stay with the order of the items in the title. So let's start with Cham.
Cham, one of my latest discoveries, is a language spoken by some 200,000 people in Cambodia and Vietnam. The Cambodian edition, called Western Cham, has a neat script, like a series of angular ribbons, that is barely used nowadays. The Vietnamese edition, called Eastern Cham, is endangered but still alive, and is one of my new favorite scripts.
I like it so much because it demonstrates just what a written language is like without the intervention of printing. The human hand is an extraordinary device. It's at the end of no fewer than three different joints, one of which–the shoulder–is the most complex joint in the human body. As a result the hand can describe an infinite number of motions within an area of up to 25 square feet without us even moving feet or hips. And the motions of the hand are not like the lines of a printed typeface: ignoring parallel lines, right angles, symmetry or perfect circles, they are the motions of music. And as a result, every Cham letter is like the movement of a Thai dancer's hand, turning, swirling, dipping, flourishing.
My latest commission is to do a pair of monograms for a wedding present, an M and a B. The photo above is of the Cham M. Is it any wonder I love this project?
*****
The next new development is the emerging line of Endangered Alphabets furniture. No, that wasn't a link, as the most recent pieces have yet to be photographed in their full glory, but here are the first items from the line: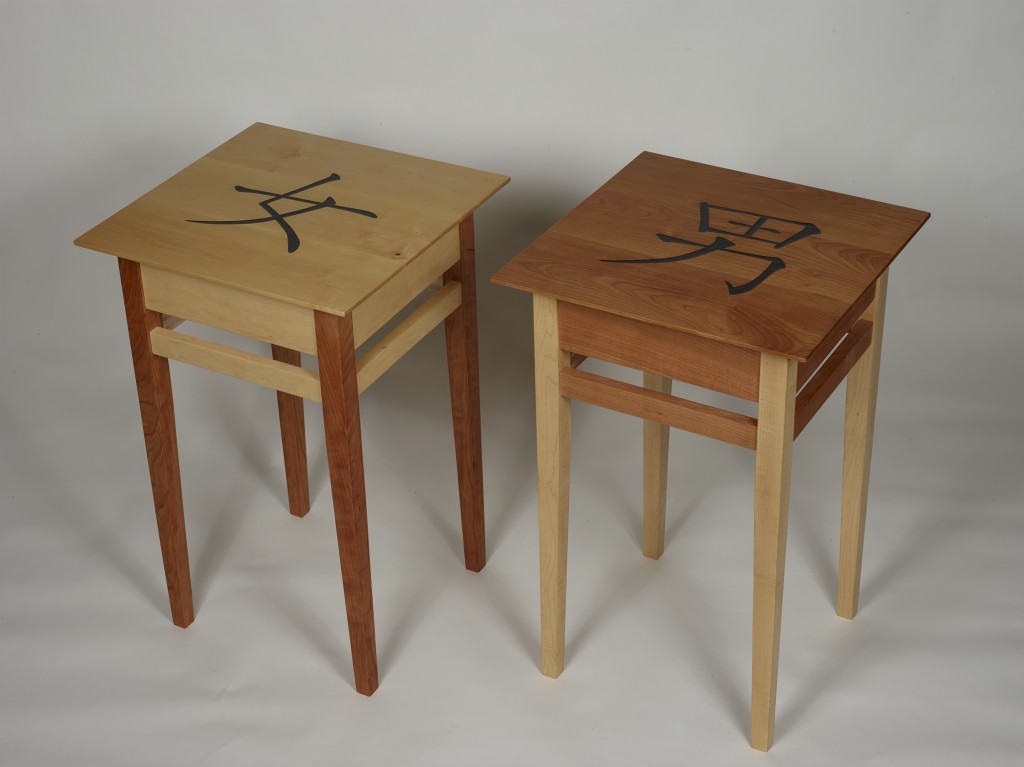 These bedside tables were a kind of trial run, and as such are not actually in an endangered alphabet, as future editions will be. These feature the Chinese characters for "man" and "woman," and have a suitably yin/yang construction: one has maple top and sides and cherry legs, the other cherry top and sides and maple legs.
The most recent items in the line, though, are my Balinese dining table, in amazing curly maple, complete with a Balinese blessing I composed; and my Javanese coffee table (coffee table: Java. Get it?) with a suitable inscription to be revealed at a later date. Photos of both to come as soon as I can get together with the fine photographer Tom Way. All are collaborations with the woodworkers at Sterling Hardwoods on Pine Street in Burlington, my home away from home.
All proceeds support the continuing work of the Endangered Alphabets Project.
****
Lastly, two coming events. The excellent Burlington Book Festival (that was a link), which this year has two Alphabets events, both on Saturday, September 21, both in the Fletcher Free Library on College Street.
The first is at 10 a.m., when I'll be doing live carving and answering questions, surrounded by wood shavings and finished carvings.
The second is at 2 p.m., when Maung Nyeu, our collaborator in the Chittagong Hill Tracts venture, will be speaking on the situation in his country and what we're trying to do to remedy it.
****
The second coming event is the also-excellent Vermont Fine Furniture and Woodworking Festival in Woodstock, Vermont. It runs September 28 and 29, and on Saturday 28 I'll be doing roughly the same sort of show-and-tell, except that this time I'll have the Endangered Alphabets furniture with me in all its glory.
Stop by, say hello, ask questions, commission presents for your family and friends!