Well, no, not that Woodstock, but Woodstock, Vermont, and the Fine Furniture and Woodworking Festival, an annual treat.
The day was a great success, with much encouragement, some excellent new connections, some book sales, some carving sales, some commissions, and the public unveiling of new work, pictures of which I have promised you for some time.
Let's start with the latest piece of Endangered Alphabets Furniture, a coffee table with script from Java–a deliberate pun. All the hard work was done by Marc Leone at Sterling Furniture in Burlington, but the carving on the top, in Javanese, says "Everyone should learn a second language."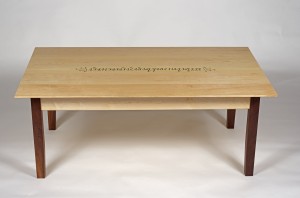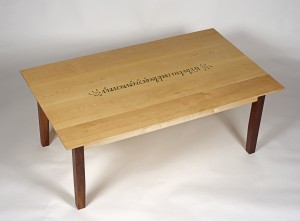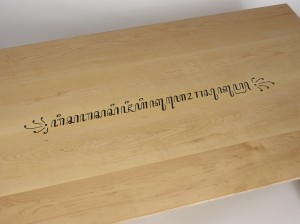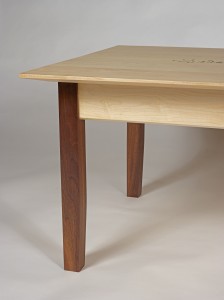 (As always, click on the image to enlarge it. And look at the cool bevel on the underside of the edge of the skirt, there. Somebody knows what he's doing.)
The coffee table can be ordered through me; we can discuss prices and your choice of text.
Now two pieces that are reluctantly passing out of my hands. The first is a gift for the singers, dancers and horsemen of the Kalmyk Republic, whom I met this summer at the Smithsonian. This is to be their sign; in Classical Mongolian, the script of Genghis Khan, it reads, not surprisingly, "Kalmyk Republic." The incredible wood is sapele, and the photo, like all these, is by the excellent Tom Way.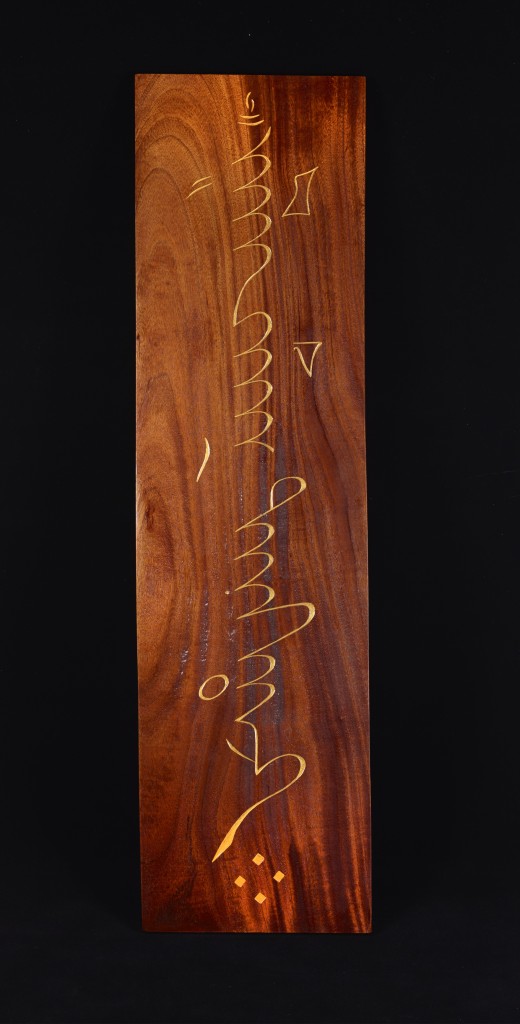 Next is a commission for my favorite coffee spot, Speeder & Earl's, on Pine Street, a kind of tribute to the fact that my daughter Maddy and I have been going there since she was very small. It's in Javanese (yes, that's the same pun) and reads "Java" or "Javanese." I deliberately gave it a coffee-and-steamed-milk look.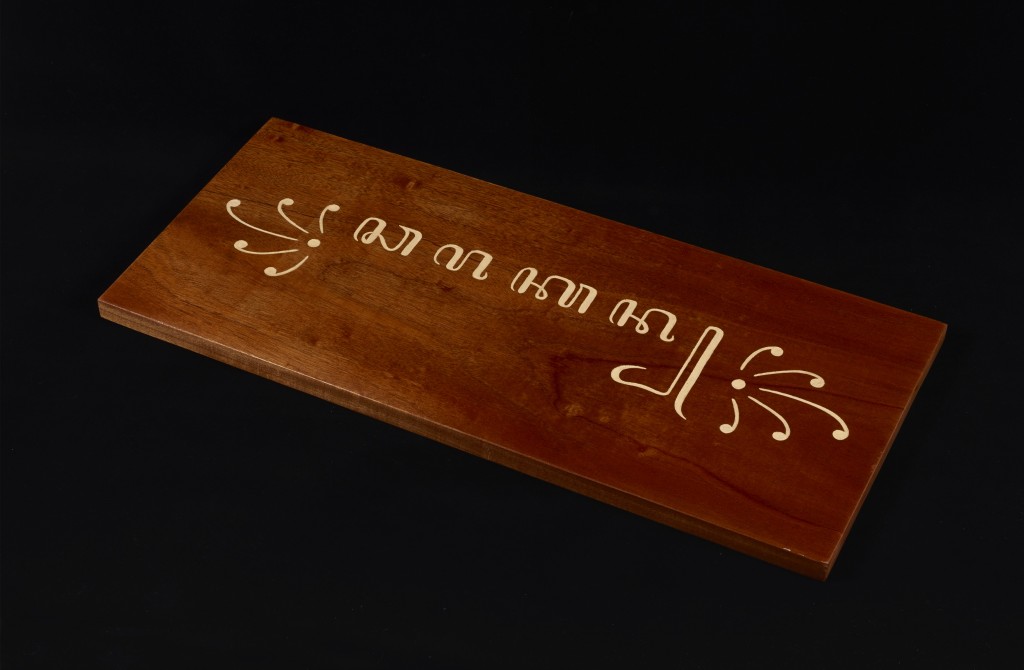 Finally, one of the big hits at Woodstock (along with Ritchie Havens, Sha-Na-Na, Joni Mitchell but not Ten Years After) was an example of my new favorite script, Cham. The Cham people live on the border of Vietnam and Cambodia, but only those in Vietnam use this wonderfully graceful and energetic script. If anyone reading this knows anyone who can speak, read or write Cham, please contact me at once! This is a capital E, which puts our own completely to shame. The wood is mahogany, from Sterling Hardwoods. This one is indeed for sale, and I'll shortly put it up on our Etsy store, where as you know all proceeds go to the non-profit Endangered Alphabets Project.