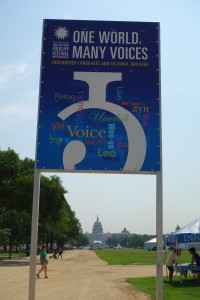 Wow. Even as your intrepid Endangered Alphabets team (Maung Nyeu, our friend and collaborator from the Chittagong Hill Tracts in Bangladesh, calligrapher/printer Jamie Kutner, Cindy Barnes, myself, and invisible back-in-Vermont laser-dude Paul Ledak) are recovering from several weeks of intense exertion and excitement, it's time to tell you what actually happened down there on the National Mall.
The Smithsonian Folklife Festival, for those who don't know it, is staged in a regatta of tents right there on the long greensward between the Capitol building and the Washington Monument, and a million-plus visitors walk through each year, most of them very hot, the sensible ones clutching cups of delicious mango lassi from the Taste of India tent.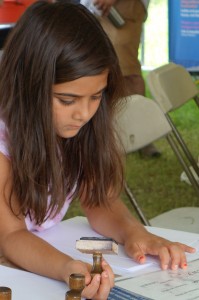 We had been allocated six tables in the Family Activities tent. Three were mobbed by kids stamping out endangered letters and words (and in some cases picking up pencils and crayons and creating their own articulations of the glyphs) and coloring red Stop signs in Cherokee and Inuktitut.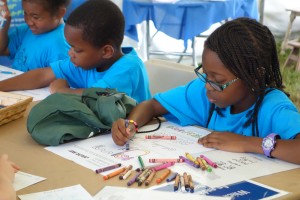 The other three were occupied at various times by Maung, Jamie, myself, and displays of carvings, books, woodblock prints and Endangered Alphabets postcards, which were snatched up like crumbs at a seagull convention.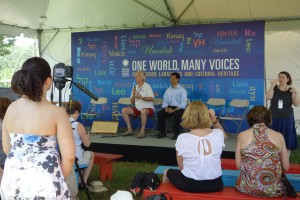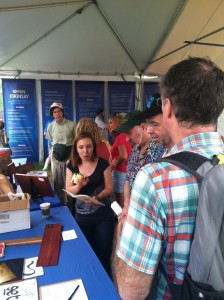 We were visited by several hundred interested, curious (and at times puzzled) visitors who offered us encouragement and a wide range of ideas and suggestions. Seriously, it's encounters like these that keep us going.
In the midst of these hectic few days, the article on the Endangered Alphabets and Maung's initiative came out in National Geographic, which added to the excitement and brought messages of support from as far away as Hawaii and North Africa.
Maung produced his surprise: a dozen copies of the first children's book ever printed in English and Marma, to be used in the school he has built in the Chittagong Hill Tracts. It's an astonishing achievement for someone from his own educationally dysfunctional background, now working halfway around the world from his home.
He and Jamie put their heads together and came up with an idea at once simple and radical. We had already designed children's activities for working with endangered alphabets—why not create coloring sheets and stamp pads for the children of the Hill Tracts who are not yet old enough to read Maung's books? In fact, why not create whole coloring books? And if we can do so for Maung's kids, why not create versions for any and all languages and scripts that have fallen off the educational/publishing radar? Javanese and Balinese? Tifinagh, the script of the Berbers? The possibilities are as wide as the horizon.
Having said that, and having promised that this blog would never hit you up for money, I just want to repeat that we are not financially supported by any foundation or agency, university or institution. The Smithsonian venture was a wonderful opportunity to spread the word of our activities, but we all attended to a greater or lesser extent out of our own pockets.
Our sources of income are sales of my book and carvings, and speaking fees. As we continue to develop educational materials, they might generate some income. At the moment, though, that's probably a year down the road. Just saying.