This will be the last in this brief, intense flurry of posts, as I'm heading into hospital tomorrow for knee replacement surgery. But I wanted to offer you a snapshot (literally) of my latest completed project, a year in the making: my dining table.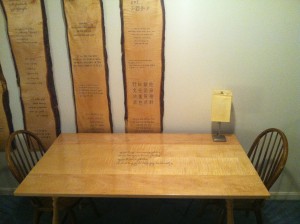 When I moved into my current place a year ago I decided I wanted to have my own dining table, and I wanted it to bear a blessing I'd written myself, which goes as follows:
Bless this food,
Bless these people,
Bless the table
That brought them together. 
I wanted the script to be Balinese, my favorite written form, and months of work by Alissa Stern produced a text I could carve and paint. It was finished on Friday, the day before my 60th birthday party, and I wanted to share the results with you, no matter how poorly I've photographed them.