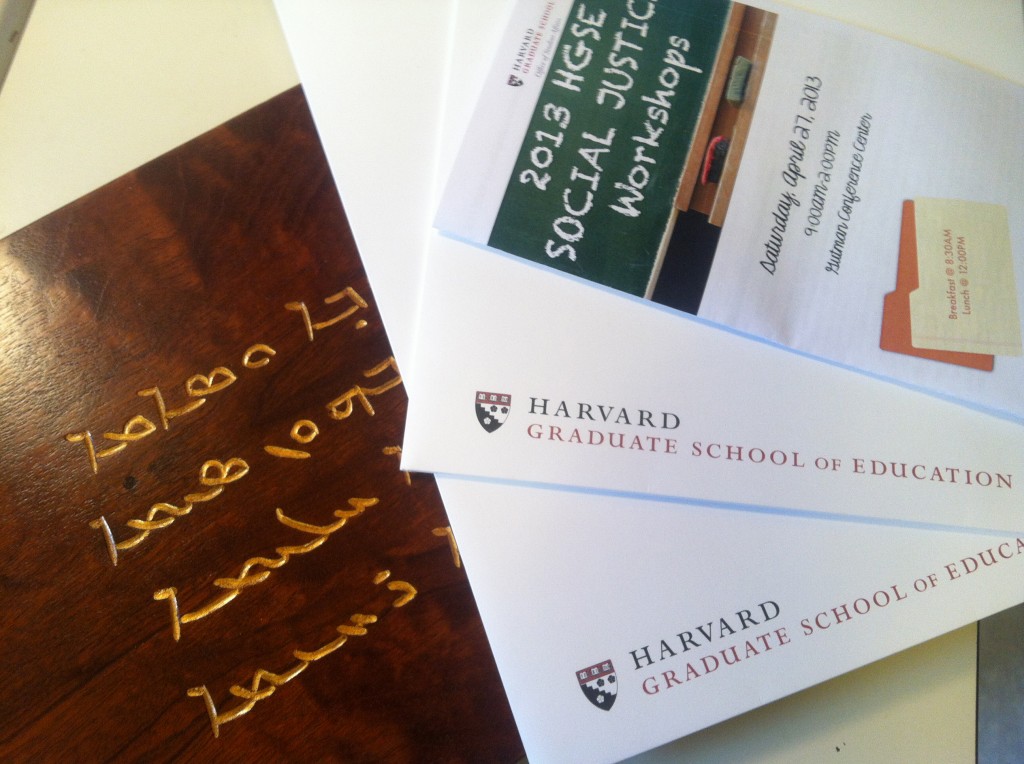 Saturday (that is to say, April 27th, 2013) was a great day for the Alphabets in two respects.
The first milestone was that I was able to drive down to Cambridge with the Endangered Poem in three lovely mahogany boards–one version in Mro, one in Marma and one in Chakma–and hand them over to Maung Nyeu, who will send them to the Chittagong Hill Tracts in Bangladesh for display.
Several shout-outs are needed here. The wood is from Sterling Hardwoods, here in Burlington, my #1 source for remarkable wood. The Mro was executed in a version of the Mro alphabet created by Tom Sanalitro of Anglia University in Cambridge, England, who has been working with me on the endangered scripts of the Chittagong Hill Tracts for several months, and has fashioned a Mro script that is both clear and graceful–a vital achievement, as Mro can now be read and written by fewer than 50 elders isolated in the forested uplands of southeastern Bangladesh. With luck, we'll soon be collaborating to produce the first schoolbook in Mro in at least 70 years. And finally a very loud thanks to Paul Ledak of Williston, Vermont, who did several layers of fancy computer work and then burned the text using his CNC laser. As you know, I'm all about the hand-carving, but this was our first experiment in mass-production, forced on us by the sheer urgency of the situation in Bangladesh, and Paul's work was a triumph.
The second milestone was that these three boards, and several other Endangered Alphabet carvings, were on display as a backdrop to a talk by Maung at the 2013 Social Justice Workshops offered by the Harvard Graduate School of Education–a talk that he and I have been working towards for almost a year, since we first met, almost by accident, in Cambridge last June.
In that time, partly thanks to a successful Kickstarter campaign and partly thanks to massive amounts of volunteer time by all involved, Maung and his collaborators have written and illustrated a children's book to be used in the school he built in the CHT so children can be educated in their own language(s)–the importance of which, as he explained in his talk, can scarcely be exaggerated. (For those new to this subject, that Kickstarter link will tell you most of what you need to know for now.) Meanwhile, my part of the team has been working on fonts, calligraphy and carving in Mro, Marma and Chakma, and we are helping Maung find a publisher.
Maung's talk, which was vivid, powerful and moving, will be repeated as part of the Smithsonian Folklife Festival in Washington, DC, in late June, with the Alphabets again playing a supporting role. If you are anywhere near DC, I strongly urge you to attend: those at the Harvard workshop were visibly moved, and the impact of Maung's work has been given a strong impetus. On that glorious spring morning in Cambridge, anything, even the reversal of massive cultural erosion, seemed possible.
Tim
P.S. Special thanks, too, to the the Alphabets' official roadie, Cindy Barnes.
P.S-Squared: if you haven't supported Alissa Stern's current Kickstarter campaign to save the Balinese language and its script, surely one of the most beautiful in the world, please shoot over to HERE and do so now!