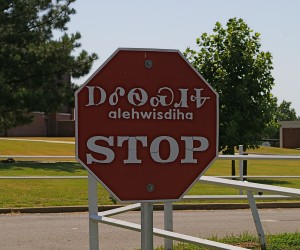 All of a sudden the Alphabets are caught up in a whirl of activity–our own and other people's.
Rumbling along in the background is the steady accumulation of information and filling in of forms needed to apply for 501(c)(3) non-profit status, which will enable us to accept grants and tax-deductible donations, and in a broader sense to expand our activities, especially into the educational arena. Meanwhile…
…we're busy creating activities for those attending the Smithsonian Folklife Festival in DC in later June/early July. Jamie Kutner in particular is stepping up and making Endangered Alphabets puzzles, coloring sheets, T-shirts–who knows what else? And Paul Ledak is firing up his laser to make coloring blocks so kids can stamp out words in endangered characters. We'll also have on hand Maung Nyeu of the Chittagong Hill Tracts to talk about the endangered way of life of his people, and the work he and the Endangered Alphabets are doing to try to change things.
But shooting past both of those is…
…the new, expanded and interactive digital edition of the Endangered Alphabets book, which will have a ton more photos, more information, more carvings, plus great digital features made possible by iBooks Author such as video, slideshows, and so on. This should be on sale through iTunes by the end of May. And speaking of selling…
…the Endangered Alphabets Etsy store is almost ready to go online. A whole range of hand-carved items will be on sale, plus more affordable gifts along the lines that you, our followers, have suggested: playing cards, puzzles, postcards, and all kinds of other items that will break nobody's budget but will help our ever-expanding initiatives to identify, research, and preserve endangered cultures. As soon as the store goes live, I'll let y'all know.
Just one Kevin Bacon away, though, more activities are taking place that affect us. Our partners the Endangered Language Alliance have a big day In New York City on May 4, where they will be holding an endangered languages Record-a-Thon as part of the Ideas City activities. With luck, they may even find someone who can write out some text in an endangered script.
Finally, my old friend Alyssa Stern, continuing her tireless efforts to revive the language and script of Bali, has launched another Kickstarter campaign that is already doing well. (I have offered to do some carvings as rewards.) Please support her by clicking here.
Trust me, even more is happening. But I'll save the rest, plus updates, for another day soon. And as always, send me your interesting, creative ideas!
Tim