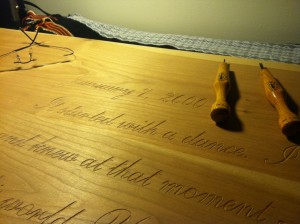 As some of you know, I had knee replacement surgery in mid-December, and let me tell you, it's a very strange and disorienting process. The main adversary is not pain but the challenge to one's sanity, and in the face of that challenge the Endangered Alphabets came to my rescue.
Right before surgery I had started a commission–not actually an endangered alphabet but a dedication carved in the top of a hope chest a very thoughtful guy was making for his wife as an anniversary present. As you can see, the carving was pretty damn demanding, but when you're getting weird electric shocks running out of your kneecap, something external that demands all your attention is actually a very good thing. And if you can do it while sitting down with your leg out straight and an icepack on your knee, so much the better!
Over the next couple of weeks I carved a couple of actual endangered alphabets, but the other piece I want to tell you about is the one pictured below.
After I'd been out of the hospital for about a week, the visiting physical therapist started making house calls. I wasn't looking forward to this: after I had arthroscopic knee surgery years ago, the physical therapy was brutal. But this guy, whose name was Mike, was very gentle and understanding, but also very good at his job. In three weeks my knee made three months' progress in range of motion and mobility.
So I decided to make him a monogram as a present. I went to my online Chinese dictionary, which did not include the characters for "physical therapy" or even "knee," but it did offer "leg." So Mike got his leg, and I got mine.