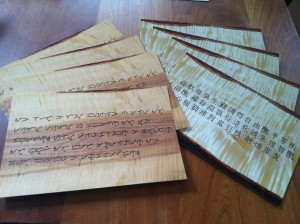 One of the biggest hits of the just-concluded European Tour was the Endangered Alphabets postcards, beautifully designed and executed by my ace graphic designer daughter Zoe to capture the grain and feel of the wood as well as the text. I put them out on a table next to the carvings and next time I turned around, they were all gone.
Here's my offer: while supplies last, as they say, email me (brookes@champlain.edu) the name and street address of someone you think might be interested in knowing about the Alphabets, and I'll mail them one of these gorgeous postcards.
Yes, I know this means I'll be bearing the cost of the cards and the postage, but if one person every so often orders a copy of the Endangered Alphabets book as a result, it'll all be worthwhile.