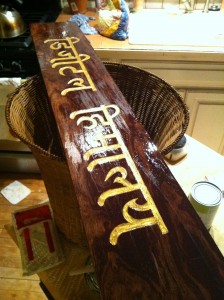 The latest carving is a piece for Mark Turin of Yale. For those of you (like me) not fluent in Nepali, it reads "Digital Himalaya"–the name of a multimedia ethnographic project gathering information from the Himalayan region.
Even more unfamiliar than the script is the wood. The guys at Sterling Hardwoods saved it for me, but even they have no idea what it is. An incredible swirling grain, full of whorls and knots, like blood stirred into mercury. Anyone got any ideas what it might be? (See bottom of post.)
And speaking of Yale, the Alphabets will be there on April 3rd after a very busy March. (And the promise of a trip to Thailand in December.) See the calendar for details as they emerge.
The latest guess is that the wood is ipe (pronounced ee-pay), also known as Brazilian walnut or ironwood. That would certainly tally with the incredible hardness of this wood. Turns out that ipe has the same fireproof rating as steel and concrete!