Give your friends and family presents that are at least unusual and maybe even downright unique, and support the Endangered Alphabets Project in the process. All proceeds go toward the Endangered Alphabets World Tour.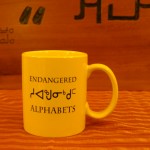 A coffee mug featuring the Endangered Alphabets logo, which in itself features Inuktitut, the Inuit script. A talking point at any breakfast table. $25 including packing and mailing within the U.S.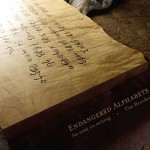 A copy of Endangered Alphabets, the coffee-table-style book I've written to accompany the exhibition. It has stunning photos and a short essay on each script I've carved, raising fascinating questions about the history and nature of writing. $32.50 including packing and mailing.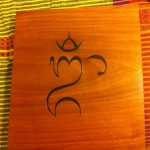 A carving of the Balinese character for Om, in my view the most graceful and remarkable letter in the world. Dimensions will be roughly eight inches by eight inches. I'll make only three of these, or I'll never get them done in time for Christmas. Must order before December 12. $200 including packing and mailing within the U.S. (I'm sorry but I can't guarantee that overseas orders will arrive by December 25th. I could tell you stories about the mail that'd make your hair curl….)