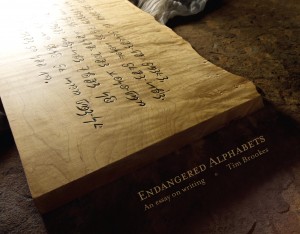 The Endangered Alphabets Book, with an introduction by David Crystal, author of The Cambridge Encyclopedia of Language, is now a reality! Individual copies, signed and inscribed, can be purchased for $29.95 plus $2.50 for packing and mailing below (6.50 for international shipping).  Anyone interested in a review copy should also email me at timbrookes@burlingtontelecom.net. Copies will also be available wherever the boards are displayed.
I'll be happy to sign your copy and add a personal inscription to yourself or to whomever you intend to give the book as a gift. Just enter what you'd like me to write here:
What is the Endangered Alphabets project? The world has more than 6,000 languages, but in every respect that number and that variety is dwindling rapidly. Half are expected to be extinct by the end of this century.
But another and even more dramatic way in which this cultural diversity is shrinking concerns the alphabets in which those languages are written. Writing has become so dominated by a small number of global cultures that those 6,000 languages are written in fewer than 100 alphabets. Moreover, fully a third are endangered. The Latin alphabet—the ABC of the West—has gone from being the alphabet of military empire to the alphabet of economic empires and, most recently, of the Internet. On a global scale, writing is already dominated by as few as five major alphabets: Latin, Arabic, Cyrillic, Chinese and Japanese.
The Endangered Alphabets Project, which consists of an exhibition of carvings and a book, is the first-ever attempt to address this issue. Please click on those links for more information.
To see me talking about some of the Alphabets on YouTube, click here.